What could you become after your Mathematics and Science Academy experience?
OLHS MSA students become leaders at prestigious universities:
OLHS MSA students become researchers:
These research skills begin for many while in the Academy.
OLHS MSA students become professionals in medical fields
For many, their senior projects inspire their post-secondary pursuit of medical fields.
OLHS MSA students become environmental stewards:
Mike Adams, MSA Class of 2014, was selected from a large pool of applicants to be one of 12 high school students from the United States to participate in the Oceans for Life program.  This program was founded by NOAA and is hosted by the Channel Islands National Marine Sanctuary.  As a part of the program Mike created a media project on his studies with the assistance of National Geographic.
Academy graduates are problem solvers for the communities in which they live.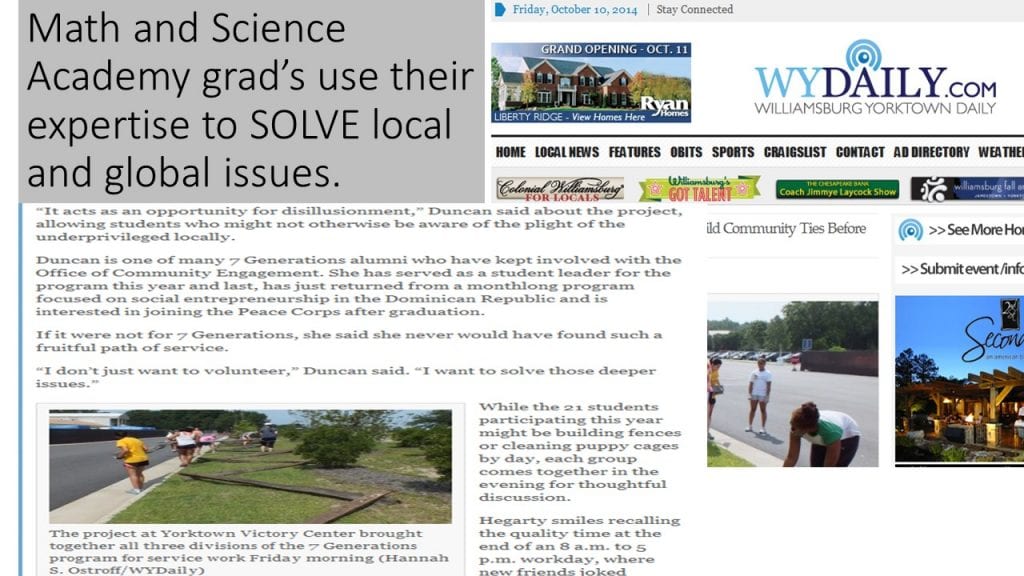 James Hemphill is an environmental steward–president of Project Green Teens.
OLHS MSA students share their talents with the world:
Josh Mann, Class of 2011, used his scientific know-how and his artistic talent to honor the International Year of Chemistry through a University of Waterloo publication, Chem13 News Magazine's collaborative project redesigning the periodic table.  His interpretation of the element Vanadium was selected from an international submission pool to be a part of their published work.
Academy graduates, serve our country as STEM professionals in our military.
Academy graduates are pioneers in their fields and in the SOLAR SYSTEM.